BOOK NOW!
Check availability for your Wilderness Escape
Best Places to Camp in Northern Virginia
Virginia has some of the most beautiful camping in the United States, from sandy seaside places to pitch your tent to forested mountain cabins. 
Northern Virginia has many beautiful campsites to choose from to help you reconnect with nature without having to go far from home. Whether you're looking for tent camping, RV camping, or cabin rentals, northern Virginia has something for you.
Best Campgrounds in Northern Virginia
All-around Best Camping in Northern VA
If you're looking for the best place to go camping in Virginia, you can't go wrong with Wilderness Presidential Resort.
Located in the heart of Spotsylvania County near Fredericksburg, Chancellorsville, and Wilderness, and just an hour's drive from Washington DC, Wilderness Presidential Resort is a good pick if you want a large range of activities to choose from while camping.
Whether you're looking for a tent site, RV site, or cabin rentals near Washington DC, Wilderness Presidential Resort has something for you on its 600 acres of beautiful woodland and lakes.
You'll have a large selection of activities to choose from during your stay. Zipline through the adventure park, learn to shoot in an archery lesson, or try the escape room. Play mini golf, disc golf, Knockerball, tennis, or basketball. Swim in the indoor or outdoor pool, or lounge at the lakeside beach. And just a short drive from the resort, you can explore the area's Civil War attractions or visit Old Town Fredericksburg.
Whether you come for adventure or relaxation, Wilderness Presidential Resort will give you a fun and authentic camping experience with your family. 
Best Places to Tent Camp in Northern Virginia

Chickahominy Riverfront Park features over 120 campsites, some of which sit right on Chickahominy River and Gordon Creek, giving you scenic waterfront views. While there are no cabins available, campsites include everything from basic tent sites to full RV hookups.

The best tent sites include waterfront camping along the Chickahominy river, with your own personal access area to the water. 

Even if you stay at a site that isn't waterfront, you can enjoy the nearly 300-foot long fishing pier, launch your boat from the boat ramp, or rent a canoe or kayak to explore the river.

Site amenities also include a sand volleyball court, basketball court, horseshoe pits, corn hole, and a splash pad, along with an open space for field games or picnics.

If you're looking for a true primitive camping experience and you don't mind putting in a bit of work to get there, go to Sky Meadows State Park. 

You'll have to either hike or bike one mile in with your gear to get to the campground from the overnight parking area, but you'll be well-rewarded with a small woodland camping area and the rolling pastures of a historic farm.

The park has tent sites only, no cabins or drive-to campsites, so you'll be truly alone with nature.

While you're there, you can explore 22 miles of hiking trails, 10.5 miles of horse trails, and 9 miles of biking trails that range from easy to difficult. The park also allows access to the Appalachian Trail, with 3 miles of the trail running through the park 

For families, the Children's Discovery Area is an open and safe space for children and families to enjoy the park's pastoral landscape and learn about agriculture, nature, and history.

While swimming and boating isn't available, The park's 3.5-acre Turner Pond has fishing piers where you can catch largemouth bass, catfish, crappie, sunfish, and bluegill. 

If you want a small, tents-only camping experience near Washington DC, you won't find anything better than Leesylvania State Park, a 556-acre state park located along the shores of the historic Potomac River. 

To get a campsite, you'll have to put in some work, because campsites for private parties are reserved only for campers arriving by canoe or kayak.

If you're willing to paddle in, you'll find yourself in a camp with great fishing, beaches, and several trails. The park's five hiking trails boast scenic overlooks along the Potomac, including a segment of the Potomac Heritage National Scenic Trail. Explore historic sites where Captain John Smith visited in 1608 and the remains of a Confederate gun battery at Freestone Point.

Swimming is not allowed in the park, but fishing is popular, especially for largemouth bass, catfish, perch, and striped bass. Motorboats are allowed with no horsepower restriction. Sailboat, kayak, and canoe rentals are also available.
Best Campgrounds in Virginia with Cabins

If you're looking for a campground with a waterpark, consider Bull Run or Pohick Bay regional park. 
Bull Run is located in Centreville and has campgrounds, cottages, and acres of activities, including hiking trails, disc golf, and picnic areas. It includes Atlantic Waterpark, which has a large pool and a play island featuring a dump bucket area with covered slides, open slides, water cannons, and sprayers. For younger children, there's also a baby pool and a sand play area.
Pohick Bay is located in Lorton and features not only a waterpark but a bay with canoe, paddleboard, and kayak rentals. The park's Pirate's Cove Waterpark has a pirate-themed play structure featuring a 300-gallon dump bucket, waterslides, and a large baby pool with a clam shell slide.
There are a variety of campsites at both parks, including pull-in sites with a grill, fire ring and picnic table. RV sites are available with electric-only service or full service. Tent camping and cabin rentals are also available.

If you're looking for a campground with cabins close to Washington DC, check out Prince Wiliam Forest. 
Tent, RV, and trailer camping is available, but the historic cabin rentals are perhaps the most interesting. Four of the five cabin camps are listed on the National Register of Historic Places. Built during the great depression by the Civilian Conservation Corps as summer camps, they were also used by the Office of Strategic Services as a spy training area in World War II.
While you're there, hike through the park's 37 miles of trails with creeks, wildlife viewing, and historic sites. Bike on paved and gravel trails, fish in 18 miles of streams and man-made lakes, and bird watch for rare species of birds.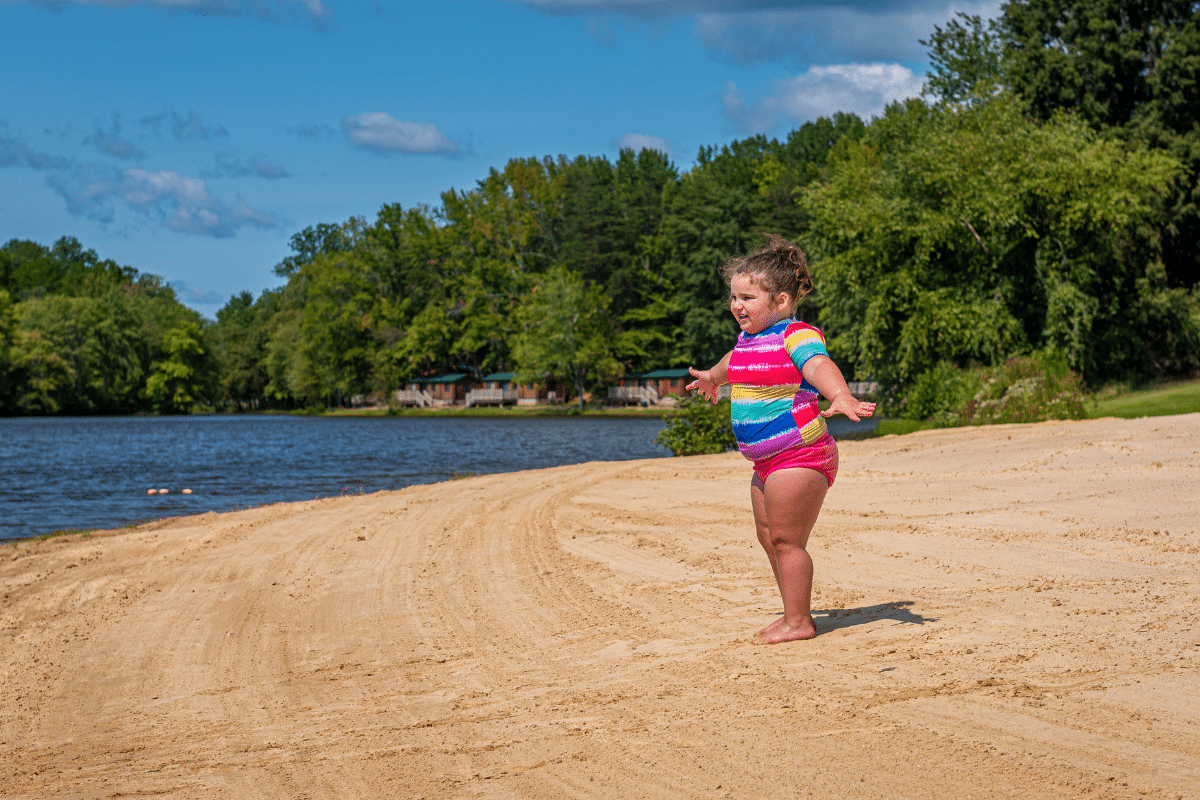 Best RV Campgrounds in Northern Virginia

Previously a thriving Watermelon Field and home of the first bluegrass festival in the country, Watermelon Park was turned into an RV campground after the park's owner noticed people would sleep in the fields after the bluegrass shows.
Watermelon Park offers RV camping only—no tent sites or cabin rentals are available.
Watermelon Park is still the home of a three-day bluegrass festival known as the Watermelon Park Fest, but is also known for being a family-friendly campground. They offer tubing, kayaking, fishing, swimming, volleyball, soccer, and an all-around good family camping experience.
Best Places to Camp and Fish in Northern Virginia
If you're looking for water activities, consider camping at Lake Fairfax Park. Both tent and RV sites are available.
While swimming, sailboats, and gas or electric powered boats aren't allowed on the lake, paddle boats are available for rental, and fishing is popular. 
Lake Fairfax's main attraction is their waterpark, where there is a western-themed family activity pool with an acre of interactive play features for children, including a lazy river, slides, and flumes.
Other amenities include a skate park, a pump track, several hiking and biking trails, boat rentals, a carousel, athletic fields, picnic areas, playgrounds, and trails.
Located on Lake Anna in Louisa County, Christopher Run campground offers RV camping and cabin rentals.
Rent a canoe, rowboat, paddle boat, or launch your own boat at the marina, and swim or fish in the 14,000 acre lake. 
Amenities include a game room, picnic area, boat storage, church services, laundromat, bath houses, and a snackbar, as well as game areas for volleyball, horseshoe, or shuffleboard. 
With both tent and RV sites, though no electric or water hook-ups, Burke Lake Park offers one-hundred wooded sites with grills, picnic tables, and fire pits.
Burke Lake is a great place for a family camping trip, with fishing, biking, boating, camping, and hiking available
Burke Lake has two boat launch areas where electric motor boats can be launched. Kayaks can be used only for fishing, and rowboat, kayak, and canoe rentals are available. 
Other activities include a miniature train, carousel, picnicking, mini-golf, and disc golf, plus many family-friendly classes, camps, and special events.
Best Place to go Camping in Virginia
Ultimately, the best place to go camping in Virginia will depend on whether you're tent camping, RV camping, or renting a cabin.
Northern Virginia offers many campsites with historical features, water activities, fishing, swimming, and family-friendly amenities.
For a wide range of camping activities with tent, RV, and cabin rentals available, choose Wilderness Presidential Resort.