LODGING OPTIONS AT WILDERNESS
BOOK NOW!
Check availability for your Wilderness Escape
Camping in Virginia at Wilderness Presidential Resort
Some of the best vacations can be enjoyed at Virginia campgrounds. Wilderness Presidential Resort offers a wide variety of lodging options for camping in Virginia. Our basic Camping RV's offer the most affordable nightly rates. If you're looking for "glamping" (glamorous camping) experiences, our new Cool Springs Lakeside Camp Cabins & recently updated Log Cabins are perfect.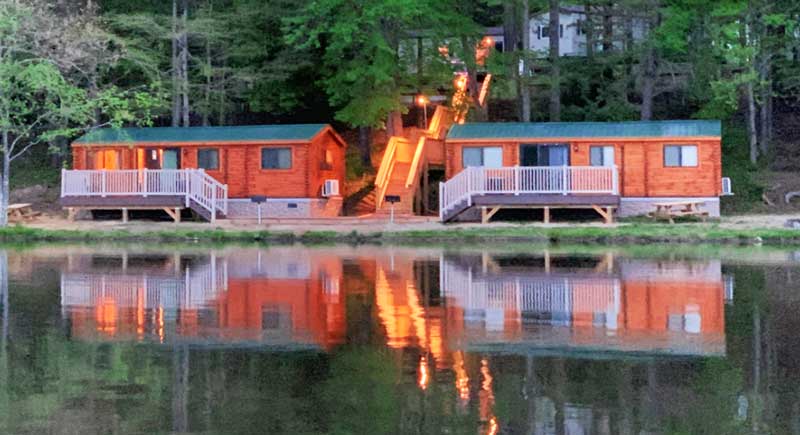 COOL SPRINGS LAKESIDE CAMP CABINS
Our new Lakeside Camp Cabins are equipped with all the creature comforts of home.  Find air-conditioning, televisions, complete kitchens, bedrooms, bathrooms and more.  Select from the 2 Bedroom Dogwood Rancher, 2 Bedroom Redbud Rancher with whirlpool/hot tub OR 1 Bedroom Holly Lakeside Camp Cabins.  All will make your "glamping" memorable.
PRESIDENTIAL LOG CABINS
Our recently remodeled, RCI Silver Crown rated, Presidential Log Cabins offer spacious one & two level fully-equipped cabins.  This 'home away from home' has all your creature comforts; air-conditioning, televisions, complete kitchens, bedrooms, bathrooms and more.  Reserve a Presidential Log Cabin OR Hazel Grove Lakeside Log Cabin for an awesome experience.
CAMPING RV'S
Our stationary RVs offer all the basic comforts of home.  Our most budget-friendly offering includes kitchen,  bedroom, lounging area and bathroom.
These RV's are equipped with air-conditioning and will keep you comfortable after your full day of resort activities.
Booking options include the Quail Ridge (38'), Laurels (28') and Sunset Point with Hazel Grove lakeside location (28').
RV SITES & TENT SITES
RVs - Like to travel with your own accommodation?  Park at the Wilderness Presidential Resort and enjoy electricity and water at every site.  Add unlimited activities and turn your RV into a resort.  Sewer equipped sites or sewer pumping service is also available.
Tents - Pitch your tent and get back to nature.  At least close enough, with all the conveniences offered by the resort.  Dine under the stars and sleep in your sleeping bag, but enjoy using the 'facilities' available when nature calls.
Wilderness Presidential Resort is Proud to be Affiliated With: