BOOK NOW!
Check availability for your Wilderness Escape
Top 10 Cabin Rentals Near Washington DC
You might think that you have to drive many hours away from DC to escape the suburban sprawl, but there are several exciting, nature-filled campgrounds with cabins around Washington DC.
 
If you are looking for cabin getaways near DC, check out these campgrounds that offer many onsite amenities for your next getaway. 

All of the cabin rentals near DC included on this list are between a half hour and two hours away.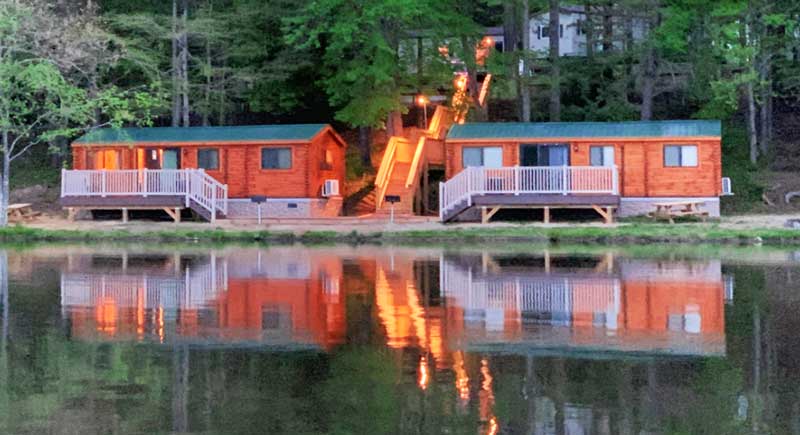 Distance from Washington, DC: 1 hour, 15 minutes (60 miles)
Wilderness Presidential Resort is a camping resort set on 600 acres in Spotsylvania, Virginia. Whether you want a simple tent site or you're looking for quaint, amenity-filled log cabins near Washington DC, Wilderness has accommodations for you. Open year round, they offer luxury camping rentals in their Lakeside Camp Cabins and Presidential Log Cabins, as well as affordable camping cabins, RVs, and tent sites. 
With some of the best lake cabins near Washington DC, they boast two sets of lakeside cabins, the Cool Springs Lakeside Camp Cabins and Hazel Grove Lakeside Log Cabins. The cabins located on Cool Springs Lake sleep a total of six guests. Amenities include a fully equipped eat-in kitchen, color TV with cable, high speed internet connection, central heat and air conditioning, a porch, and an outdoor picnic table with chairs and an outdoor grill. 
The Hazel Grove Lakeside Log Cabins are best for those looking for lake cabins near Washington DC, as they are ideal for fishing and other water activities. Hazel Grove's cabins are offered as one or two story cabins with a southern-style porch complete with rocking chairs. 
Wilderness hosts many campground activities. Kayak, paddle board, paddle boat, swim, or go bass boat fishing in one of the campground's large lakes. Other onsite activities include hiking, an adventure ropes course, disc golf, three swimming pools, tennis, mini golf, Knockerball, archery lessons, and basketball. 
Nearby attractions include nearby Civil War battlefields, breweries, wineries, and Fredericksburg's Old Town. Wilderness is also conveniently located for day trips to James Madison's Montpelier and Shenandoah National Park. Annual events at Wilderness include the Wild Roots Music Festival, an antique car show, holiday festivals, and more.
Aside from cabins, guests can rent an onsite RV or bring their own. RV sites include 30 amp electric service, water, charcoal grills, and picnic tables. Tent sites are also available that can accommodate up to 6 guests and include a charcoal grill, picnic table, 30 amp electric service, and water access.
Distance from Washington, DC: 2 hours (74 miles)

Westmoreland State Park, located in Colonial Beach, VA, stretches along the shores of the Potomac River. The park offers hiking trails, camping, fishing, boating, swimming, and scenic cliffside views of the Potomac River. 


Westmoreland offers picturesque cabin getaways near DC with their vacation cabins that date back to the 1930s. Many sit perched on top of Horsehead cliff, giving visitors a beautiful view. Eagles and other birds can be spotted from the clifftops. 

The main attraction of Westmoreland State Park are the beaches. If you want less of a crowd than at the park's main beach, take the short, sandy 0.7 mile trail down to Fossil Beach. Not only is Fossil Beach great for swimming and fishing; you might find a fossilized shark tooth. Fewer people visit Fossil Beach than the main beach at Westmoreland State Park because of the short walk required to get there, so even if you don't want to search for shark teeth, it's worth the trek for the solitude.
Distance from Washington, DC: 1 hour, 20 minutes (63 miles)
If you're looking for mountain cabins near Washington DC, Cunningham Falls is one of the best places to go. Their cabins are nestled inside Maryland's beautiful Catoctin Mountains. As the name might suggest, the state park is home to the state's tallest cascading waterfall, coming in at 78 feet.
Four and six person cabins are available to rent in the William Houck area of the park. Amenities include picnic tables, fire rings, and lantern posts. The cabins have no climate control but do have electricity, so campers can bring their own electric heater or fan. Campers must provide their own linens, and all cooking must be done outside the cabin. 
There are many hiking trails throughout the park from short, flat hikes for beginners to challenging rocky ascents. The park's waterfall can be reached either by a hiking trail or a short walking path. Lake activities can be enjoyed at the nearly 50-acre William Houck Lake. Swim, boat, picnic, or watch for native Maryland wildlife around the lake. Visit Cunningham Falls Aviary to see native area birds.
Cunningham Falls Campground includes two campsites, one in the William Houck Area and the other in the Manor Area, though only the William Houck area offers cabins. Both areas offer tent sites with picnic tables, fire rings, lantern posts, and a centrally located bathhouse with flushing toilets and hot showers. 
Distance from Washington, DC: 1 hour, 15 minutes (65 miles)
Harpers Ferry Adventure Center offers both cabin rentals near DC and campground sites along the Potomac River. The cabins are located on a private, gated mountaintop accessible only to cabin guests. 
Each cabin comes equipped with electricity, air conditioning, a picnic table, and a grill/fire ring combo. While there is no plumbing inside the cabins, the bathhouse with hot showers is only a short walk away. Guests must bring their own air mattresses, sleeping bags and linens.
Activities at Harpers Ferry include tubing, kayaking and rafting on the Potomac River, which runs through the camp, as well as a zipline, ropes course, segway rides, and a playground. 
Those who stay in the cabins can enjoy multiple scenic overlook points and private river access, as well as discounts on activities. Choose from a number of half or full day adventures and save with custom or pre-packaged play and stay options.
Distance from Washington, DC: 1.5 hours (68 miles)
If you're looking for treehouse rentals near Washington DC, there's really only one place to go. Located in Rohrersville, Maryland, The Treehouse Camp is a unique campground that offers tree cottage, treehouse, and campsite rentals.
Their treehouses include the new Firefly Deluxe Treehouse, featuring a large lower deck, 
covered porch, loft, four skylights, and outdoor solar lights as well as treehouses and tree cottages.
The treehouses are no frills, eight of them having only simple screened-in walls. They range in size to accommodate anywhere from four to twelve people, and are very popular with children. The treehouses don't have electricity or running water, but do feature an outdoor grill and fire circle. You must bring your own bedding, cookware, and flashlight. 
The tree cottages are similar to the treehouses, but  they are insulated for year-round use and have indoor tables and chairs, as well as wood stoves for heating and cooking. 
If you want to sleep closer to the ground, you can rent the Hobbit House, a cabin built into the ground. It has the feel of a fairytale, with a roof full of wildflowers, a thatch-covered porch with fairy lights, and a mural of enchanted forest inside.
Campsite amenities include a bathhouse, private outdoor hot showers, indoor heated showers, a multi-use pavilion and a camp shop.
Located close to river rafting on the Potomac and the active town of Harper's Ferry, West Virginia, there are many fun outdoor activities nearby.
Distance from Washington, DC: 1 hour, 20 minutes (73 miles)
Jellystone Park is a family camping resort located near Williamsport, Maryland. Jellystone park offers both RV and tent sites, RV rentals, and cabin rentals near DC. 
The cabin rentals sleep anywhere from four to ten people and offer a range of amenities depending on your needs. Many of them feature a lofted area for children's bunks, full bathrooms, TV with cable, full kitchens with ample seating, central climate control, a picnic table, fire ring, charcoal grills, and a screened-in porch.​ 
Jellystone Park provides lots of fun for families, including a Water Zone with two 400-feet water slides, a 3200 square-foot pool with hydrotherapy jets, a splash pad, a pirate ship, water cannons, a slide, blasters and more. There is also a lazy river, a "ninja" course with a traverse wall, and a large 30 feet by 50 feet "jumping pillow". 
Other park activities and attractions include a gem mining area, a track, mini golf, laser tag, archery tag, playgrounds, an arcade, gaga ball (similar to dodgeball), basketball, volleyball, pony rides, hay rides, arts and crafts, scavenger hunts, bingo, and an Amphitheater with children's movies.
If you're interested in taking day trips from the park, you can visit the Antietam National Battlefield or go hiking on the Appalachian Trail.
Distance from Washington, DC: 30 minutes (17 miles)
Cabin rentals near DC can't be discussed without bringing up Cherry Hill Park. Only half an hour from the capital and close to the interchange of I-95 and the Beltway, Cherry Hill can be reached by the metro from DC. Despite its proximity to the city, Cherry Hill Park offers a serene and private family-owned campground perfect for cabin getaways near DC.
While being closer to the city means slightly higher prices than many places on the list, Cherry Hill provides a full line of accommodations to choose from according to your family's needs. Stay in rental cottages, glamping pods, trailers, yurts, or rustic cabins. 
Cherry Hill Park's cabin rentals come with inclusive resort-style amenities including a full bathroom, full kitchen, central climate control, cable TV, WiFi, linens, a covered porch with Adirondack gliders, a fire ring, a picnic table, and access to their resort-style amenities.
For those wishing to visit DC, there is a seasonal express bus that will take you directly downtown from the campground. If you prefer getting there in a more active manner, there are also forty miles of off-road trails in and around the park on which you can bike or walk directly into downtown DC. 
Onsite, the resort amenities include a cafe, golf cart rental, hot tubs, a sauna, a dog park, playgrounds, gem mining, a catch and release fishing pond, a souvenir and grocery store, a game room and outdoor games, a 1.3 mile walking trail, an outdoor fitness area, an indoor exercise room, and two laundromats. In the summer, there are also two pools, a splash park, tractor rides, and outdoor movie nights.
Distance from Washington, DC: 50 minutes (30 miles)
Little Bennett Campground, located in Clarksburg, Maryland is one of the best places for last-minute cabin rentals near DC. The campground is located less than an hour from Washington, DC, historic Baltimore, and historic Frederick.
Enjoy your stay in a cabin, yurt, or a wooded campsite. Little Bennett's cabins accommodate either four or six people, and offer a full bathroom, TV for playing DVDs, baseboard heat, ceiling fans, A/C, a furnished porch, and kitchens with a microwave, Keurig coffee maker, and refrigerator. During your stay, you can cook your meals on an outdoor charcoal grill. 
The yurts can accommodate six, with two full-sized beds and twin bunks and do not include a bathroom, though they are located close to the bath house. They include a picnic table, fire ring with a grill top, and an outdoor electrical outlet.
Little Bennet is convenient for Black Hill, Little Bennett and South Germantown Regional Parks. The parks offer activities such as picnic areas, trails, horseback riding, hiking, biking, playgrounds, and golf and other sports. At Little Seneca Lake, you can rent a canoe, kayak, or rowboat and follow the Black Hill Water Trail.
Distance from Washington, DC: 1 hour (50 miles)
Ramblin Pines is a full-service family campground. Whether you're looking for cabin rentals near DC or Baltimore, this campground is convenient for both, with 200 campsites and six cabins available for rent. 
The cabins sleep two adults and two children and have electricity, air conditioning, picnic tables, grills, and fire rings. RV sites are also available with full hookups and cable TV.
Onsite activities at Ramblin Pines include miniature golf, a swimming pool, a jumping pad, a playground, a game room, a pavilion, catch & release fishing, an exercise room, a pet exercise park, general store, modern bathhouses, and a laundromat. 
During summer weekends and holidays, they have games, hayrides, and live entertainment.
Distance from Washington, DC: 2 hours (96 miles)
Cove Campground, located west of DC in Gore, VA is a privately owned tree farm that offers two lake cabins near Washington DC. While the cabins don't boast many amenities, you can enjoy over an acre of lakeside beaches during your stay. 
The cove was opened to the public so that the owners could share its charm, solitude, and beauty with those who love the outdoors. Activities include fishing, boating, or going for hikes in the Appalachian mountains.
Distance from Washington, DC: 40 minutes (25 miles)
Located in Lothian, Maryland, only forty minutes from downtown DC, Adventure Bound Washington offers cabin getaways near DC without much effort to get there.
Adventure Bound offers RV rentals, shady tent sites, and two-room log cabins. Their cabins have WiFi, ceiling fans, electrical outlets, and climate control.
Escape the city and enjoy their pool, mini golf, and playground, or use the campsite as a homebase to explore nearby attractions such as the Chesapeake Bay, National Harbor, Baltimore, DC, or Six Flags. 
Distance from Washington, DC: 1 hour, 45 minutes (90 miles)
Located in Maurertown, Virginia, near George Washington National Forest, the Bear Den is one of the most remote cabin getaways near DC.
To get there, you'll need to cross a low-water bridge over the Shenandoah River and drive up a steep hill (4WD or AWD is a must). Once there, you'll find a luxury cabin experience with a wood fireplace, wraparound deck, screened in porch, fire pit, and a hot tub.
If solitude is your goal, you can't do much better than this cabin. Stay in and enjoy stunning valley views or hike right out the backdoor onto a private access trail leading to the Massanutten Circuit Trail. 
Distance from Washington, DC: 2 hours (105 miles)
A Frame of Mind is a large, privately owned cabin set on 130 wooded acres in Berkeley Springs, West Virginia. For luxury cabins near Washington DC, you can't do much better than this. More like a house than a traditional cabin, it boasts 3 large bedrooms and 4 bathrooms, a large open floor plan, a fully stocked kitchen with stainless steel appliances, and a fireplace. 
A Frame of Mind is conveniently located near Cacapon State Park which offers golf, horseback riding, biking, fishing, hiking, skeet shooting, and a lake for swimming and boating. The nearby town of Berkeley Springs provides shopping, restaurants, mineral baths and spas.
Best Cabins Near Washington DC
There are many cabin getaways near DC to choose from, whether you want a barebones experience or a luxury escape from the city. For the best cabin rentals near DC, be sure to choose a campsite that provides onsite amenities for family fun, cozy cabin rentals, and area attractions for day trips.