BOOK NOW!
Check availability for your Wilderness Escape
Top 10 Cabin Rentals Near Fredericksburg, VA
Fredericksburg is located perfectly between the coast and the mountains, meaning you don't have to drive far to spend time in nature, go camping, or find a quality rental cabin. From beachside to lakeside to serene mountain lodges, there are many cabins near Fredericksburg, VA to choose from.
If you are looking for cabin rentals near Fredericksburg, VA, check out these campgrounds and private rentals for your next getaway. The cabin rentals included on this list are located anywhere from twenty minutes to just over two hours from downtown Fredericksburg.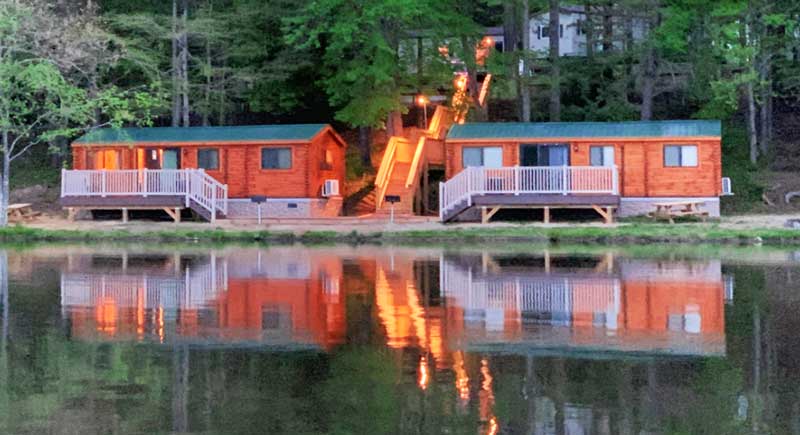 Distance from Fredericksburg: 20 minutes (12 miles)
Wilderness Presidential Resort, only twenty minutes outside of Fredericksburg in Spotsylvania county, features some of the best cabins near Fredericksburg, Virginia. Other accommodations are also offered, such as RV sites, RV rentals, and tent sites. 
Wilderness's lakeside cabins set on two different lakes, Cool Springs and Hazel Grove, and their Presidential Log Cabins also sit by the water. Amenities vary by cabin, but generally include a full kitchen, cable TV, high-speed internet, central heat and air conditioning, a porch, and an outdoor picnic table with chairs and an outdoor grill. Hazel Grove's lakeside cabins have a wraparound porch and are ideal for fishing, swimming, boating, and other water activities.
Onsite activities at Wilderness Resort include kayaking, paddleboarding, paddle boat rentals, swimming, and fishing on the resort's lakes, as well as hiking, a ropes course, disc golf, tennis, mini golf, Knockerball, archery, and basketball. Wilderness also has three swimming pools, two outdoor and one indoor. 
Area attractions include James Madison's Montpelier, Shenandoah National Park, Old Town Fredericksburg, breweries, wineries, and Civil War historical places such as Fredericksburg, Chancellorsville, Spotsylvania, and Wilderness battlefields.
Distance from Fredericksburg: 40 minutes (28 miles)
You may have heard of a heated pool, but what about a heated lake? Located in Spotsylvania Courthouse, Lake Anna was formed in the '70s to cool the nuclear power plants at the North Anna Nuclear Generating Station. The water on the south edge of the lake is its "hot" side, since it has been heated by the nuclear power plant. However, the water is perfectly safe to swim in.
In addition to its interesting features, Lake Anna has some of the best cabins near Fredericksburg VA, though there aren't many and they tend to book up early. Each cabin has two bedrooms and can sleep up to six campers. Cabins 6, 7, 8,and 9 have the best lakeside views. 
If you can't get a cabin rental and still want to stay at Lake Anna, there are also campsites both with and without water and electric hookups. Campsite amenities include bathhouses with hot showers, fire rings, picnic tables, and lantern holders. In addition to the lake, the campground has hiking trails, a children's play area, and picnic areas
Distance from Fredericksburg: 50 minutes (40 miles)
On the Potomac River's Northern Neck, Westmoreland State Park's cliffside views make it a prime camping spot. The campground has over a hundred campsites available as well as some of the best cabin rentals near Fredericksburg, VA. Westmoreland State Park is listed on the National Register of Historic Places and offers historic hiking trails, saltwater fishing, boating, and swimming.
During the summer, the cabins have a six-night minimum rental period. Cabins include a kitchen, rustic furniture, climate control, a wood-burning fireplace, grills, and picnic tables. Some of the cabins provide a screened-in or open porch. WiFi is not available in the cabins but is provided at the camp store.
Camp amenities include a bathhouse, meeting area, snack bar, camp store, power-boat ramp, a playground, a fishing pier, boat rentals, excellent birding opportunities, and 6 miles of trails. Campers can take the short trail down to Fossil Beach to search for fossilized shark teeth along the Potomac or wade into the breakwaters for an excellent fishing spot.
Distance from Fredericksburg: 1 hour, 50 minutes (80 miles)
The 1850's Massanutten Springs Retreat, the 1947 Rock Tavern Retreat, and the #1 Rock Tavern River Kamp, all owned by the same company, are campsites with yurt or cabin rentals near Fredericksburg, Virginia.
The 1850's Massanutten Springs Retreat and 1947 Rock Tavern Retreat are both luxury log cabins with river access, while #1 Rock Tavern River Kamp is a yurt campsite with family activities. 
The Massanutten Springs cabin features a master bedroom with a fireplace and a California King bed, a master bath with a large two-person tub, a washer, a dryer, a great room with sliding glass doors to enjoy the view, a fully stocked kitchen, a private deck with a hot tub, satellite television, climate control, and and outdoor patio complete with a grill, picnic table, and patio furniture.
The 1947 River Rock Tavern features two large bedrooms with their own full baths and private entrance, a wrap-around deck, a full kitchen, climate control including an infrared and electric heater in the bedrooms, a stackable washer/dryer, and a jacuzzi.
Cabin guests can enjoy Rock Tavern River Kamp's canoe, kayaks, and tube rentals. Area attractions include hiking trails in George Washington National Forest, Taskers Gap ATV trails, golf, Massanutten Water Park, Massanutten Ski Resort, and Luray Caverns.
Distance from Fredericksburg: 1 hour, 30 minutes (64 miles)
Lydia Mountain Lodge is a lodge and event venue that offers log cabin rentals near Fredericksburg, VA.  Located in Stanardsville, Lydia hosts weddings, corporate events, family reunions, church functions, and parties.
Lydia offers a large range of cabins from one to six bedrooms. Cabin amenities vary, but most include a TV, a fireplace, a hot tub, keypad entry, coffee, a charcoal grill, linens, and a full kitchen. The cabins are secluded for privacy.
Visitors also have the option to stay at the lodge, where each room has its own theme and features a private balcony with mountain views. The lodge hosts its own restaurant, Bearrr Appetit Restaurant, which serves American fusion cuisine. 
Lodge and cabin onsite amenities include in-cabin spa services and disc golf. Nearby activities include golfing, tennis, and swimming at Greene Hills Country Club, as well as day trips to Charlottesville or Shenandoah National Park.
Distance from Fredericksburg: 1 hour, 45 minutes (75 miles)
Absolute Perfect Escape offers your choice of luxury rental cabins near Fredericksburg, Virginia. Less than two hours away in the Massanutten Mountains, Absolute Perfect Escape cabin rentals are close to Luray Caverns, Skyline Drive, the Blue Ridge Parkway, Bryce Ski Resort, and Massanutten Four Seasons Ski Resort.  
Even the smallest cabin at Absolute Perfect Escape can host up to eight people, so they may be better suited for groups. Cabin amenities vary by cabin but most include large hot tubs, central air conditioning and heating, complementary towels and linens, jacuzzi tubs, combination tub showers, a washer and dryer, a fireplace, covered porches, outdoor fire pits, and grills. 
There are many activities available nearby, including state and national parks, golf, fishing, hunting, horseback riding, ATV trails, mountain biking, kayaking, swimming, ski slopes, hiking, Civil War Battlefields, and winery tours.
Distance from Fredericksburg: 1 hour, 10 minutes (54 miles)
Only a little over an hour from Fredericksburg, Rose River Farm has three rental cabins near Fredericksburg, VA. River Rose is a twenty-acre working farm.
The cabins, inspired by Mongolian Yurts, feature two bedrooms with two full baths. They include central heat and air conditioning, flat screen smart TVs, WiFi, a full kitchen with a dining table, full-wall windows with spectacular mountain views, and a large porch.
Nearby activities include fly fishing in the farm's trophy waters, horseback riding, guided kayak trips, wineries, breweries, restaurants, Old Town Culpeper, golf, and hiking, including one of Virginia's most popular hikes, Old Rag Mountain.
Distance from Fredericksburg: 1 hour, 35 minutes (70 miles)
Located in Luray, Shadow Mountain Escape offers traditional European-style cabin rentals near Fredericksburg, VA. Geared towards romance, these cabins don't allow children, pets or party groups—only couples. 
With four different cabins to choose from based on your preference and needs, each authentic oak timber frame cabin includes a full bathroom, central heating, a private deck, TV, kitchen, charcoal grill, a Keurig, bed linens, and limited WiFi a short walk away. Enjoy complimentary treats on arrival.
Campsite amenities include a self guided half-mile nature trail, Saturday night campfires, a tour of the cabin's ancient timber framing, mountain well water, Shenandoah Park hiking tips, local dining tips, and available pizza delivery service.
Nearby activities include Shenandoah National Park, wineries and whisky on the "Blue Ridge Whisky Wine Loop", dining, distilleries, breweries, and Luray Caverns
Distance from Fredericksburg: 2 hours (80 miles)
For cabin rentals near Fredericksburg, VA with mountain views, consider the Black Bear Lodge. A newly constructed, large, luxury cabin with a pine interior, this two-level cabin has breathtaking mountain views that can be enjoyed from the cabin's upper decks.


With three bedrooms and three full baths, you'll have plenty of room to spread out and enjoy the cabin's outdoor decks, propane grill, hot tub, fireplace, outdoor fire pit, and WiFi.

Plan day trips to Shenandoah National Park, Luray Caverns, Lake Arrowhead, Massanutten Resort, or venture out to explore the area's unique shops, markets, and restaurants. Other nearby activities include horseback riding, fishing, golf, and visiting wineries and breweries.
Distance from Fredericksburg: 1 hour, 50 minutes (81 miles)
Located in Luray, VA, Castaway offers two bedroom cabin rentals near Fredericksburg, VA. Sleeping two to six people, all of the cabins feature Queen-sized beds and a spacious loft, and some cabins are available with hot tubs. Castaway's log cabins are secluded retreats convenient to George Washington National Forest and the Shenandoah River. 
Experience all of the fun of the outdoors at Castaway without skimping on comfort. Go smallmouth bass fishing on the river, make s'mores at the outdoor fire pit, or rent a canoe from nearby Shenandoah River Outfitters.
Distance from Fredericksburg: 2 hours, 10 minutes (105 miles)
Located in Lyndhurst, Virginia, Cabin Creekwood offers four pet-friendly mountain cabins, ranging in size from one to three bedrooms. 
All of Creekwood's cabins are fully furnished with stocked kitchens, grills, air conditioning, fireplaces, and woodstoves. Amenities include flat screen TVs, charcoal grills, air conditioning, a gas furnace or fireplace, a woodstove in some cabins, an outdoor fire ring, and a deck or patio in a private location.
Area attractions include Wintergreen Ski Resort, the George Washington National Forest, and Sherando Lake. Nearby activities include hiking, mountain biking, horseback riding, fishing, canoeing, kayaking, golf, visiting Montpelier and Monticello, and shopping in Virginia's Antiques Alley.
Distance from Fredericksburg: 20 minutes (15 miles)
Located in Stafford, this year-round campground is primarily for RVs but also offers wooden tent sites and five cabin rentals near Fredericksburg, VA. Located along I-95, Aquia Pines is convenient to both Fredericksburg and Washington, DC. 
Aquia Pines's log cabins have air conditioning, heating, WiFi, full bathrooms, and a kitchenette with a refrigerator and a microwave. They sleep four to five campers.
Campsite amenities include cable TV, a laundry facility, a game room, an outdoor pool, and mini golf. Wild Run Brewing Company, an onsite brewery, serves craft beers and homebrew supplies.
Best Cabins Near Fredericksburg, Virginia
There are many cabin rentals near Fredericksburg to choose from, from luxury couples retreats to modest state park accomodations. For the best cabins near Fredericksburg, be sure to choose a campsite with onsite and area attractions that interest you, whether that's hiking, boating, or antiquing. 
Families will enjoy cabins that provide onsite amenities for family fun, and "glampers" will enjoy nicer cabins with electricity, kitchens, and full bathrooms. 
For authentic log cabins only twenty minutes from Fredericksburg, choose to stay at Wilderness Presidential Resort, where you can participate in all of the resort's many onsite activities while staying in a fully-furnished luxury cabin rental with all of the creature comforts of home.